Sullivan's Island Beach Directory
The entrances to the beach are at streets named "stations," due to their original use by trolleys en route to Isle of Palms. Before going into the history, here is a station cheat sheet.
Shortest beach walks (< 500 feet): Stations 18-19, 28 1/2, 30
Most scenic: Stations 18, 21, 23
Handrails: Stations 18, 21, 26, 29
UFO parked in front: Station 28 1/2
Access to the beaches is provided at the ends of numbered roads called "stations." Around the turn of the last century,  trolleys took Charlestonians to the beaches and further to the Isle of Palms, stopping at these stations. Each station's beach entrance has unique characteristics that make it a scenic walking trail in its own right. Some are surrounded by vast lawns with fine estates; some have long board walks with railings and built in benches; one is interrupted by a large pond in the middle of sand dunes, and another rests beside a house with an olive garden.
Station 8
At the western end of the island, near Star of the West Street, is the first station. This does not have a beach access path, but on the marsh side there is parking, a dock, and a view of a fishing pier built on remains of a bridge, formerly the Pitt Street Bridge, which once transported vacationers by trolley. My research has not turned up the locations of stations 1 through 7, although I suspect they existed along Pitt Street in Mount Pleasant.
Sta 8 with view of bridge
Station 9
This station does not have a beach path.
Station 10
Though not suitable for swimming, this beach is ideal for watching the sunset. It also is the only beach with a swing and affords the best view of Fort Sumter. Walking distance:  200 feet.
Sta 10 Entrance
Romantic swing
Station 11
This station does not have a public beach path.
Station 12
The beach here is also not suitable for swimming due to deadly currents. What it does have is its own little parking lot and the chance to walk to the beach through the manicured grounds of Fort Moultrie. It's also a popular fishing spot and has a short walk to the beach. Jetties were built to prevent sand accumulation in Charleston Harbor. Walking distance: 60 feet.
Station 12
View towards Fort Sumter
Stations 13 through 15
These stations do not exist since the land is taken up by Fort Moultrie.
Station 16
The path of Station 16 is lush with abundant tree cover and access to a nature trail. The nature trail loops back and reconnects with the beach, but be forewarned that this trail is not well maintained is a bit more nature than trail. Nonetheless, there are some attractive observation platforms along the way. What is apparent from most beaches on Sullivan's Island is that there is no problem with sand erosion. Beach trail walking distance: 800 feet.
Station 16 Entrance
Lush tree canopy
Entrance to nature trail
Resting spot along the nature trail
Nature trail observation platform
Nature trail rejoins the beach trail
Beach at Station 16
Station 17
There is no public beach path at this station. The oceanfront is occupied by the private Sand Dunes Club.
Station 18
Perhaps the most mysterious and magical of the beach walks, Station 18 boasts a cool, dark, tree-covered boardwalk, a strong railing with benches, and a boardwalk that spans over the last dune before the beach. Walking distance: 400 feet.
Station 18 Entrance
Warning sign in Edgar Allan Poe font
Bench is ideal for cleaning sandy feet on the way back
Boardwalk vaults the entire sand dune
Station 18 beach
Plenty of elbow room at the height of the season
But you may resort to some awkward parking spaces
View towards ION street looks like I'On
Station 18 1/2
This station is the closest to the Sullivan's Island Lighthouse, which is maintained jointly by the Coast Guard and National Park Service. Although the lighthouse isn't open to the public, explanatory markers have been placed which tell an interesting story. Walking distance: 500 feet.
Station 18 1/2 Entrance
Boardwalk path
View of the lighthouse
Station 19
The sand and boardwalk path takes you past a wildflower garden. Walking distance: 500 feet
Station 19 Entrance
Picket fence protecting flower garden
Boardwalk path to packed sand
Grassy sand dunes
Station 20
No beach entrance exists here since land is occupied by Sullivan's Island Elementary School, the only elementary school directly on a beach.
Station 21
Station 21 features a metal hand rail along the entire stretch of the boardwalk and grassy "lawns" growing right on the dunes. This beach is closest to the parking lot on Ion Ave, named after former mayor Jacob Bond I'On. Walking distance: 700 feet.
Station 21 Entrance
Boardwalk path with railing
Landscaping
Boardwalk path with marker
"Lawns" on the dunes
Station 22
This station has a wide open view and roadway for emergency vehicles. Shoals form to provide shallow warm water troughs, perfect for the timid beachgoer. Walking distance: 600 feet.
Station 22 Entrance
Boardwalk beside road for dune buggies
Beach with sand bar big enough to be another beach
Station 22 1/2
More manicured than others, this station boasts views of fine estate homes and sweeping lawns. If you drive straight after crossing the bridge to the island, this is the beach entry you will get to first. Walking distance: 800 feet.
Station 22 1/2 Entrance
Straight, unimpeded boardwalk to the beach
View of estate homes, lawn and split rail fence
Raised boardwalk in case of flooding
Beach view
Station 23
For wildflowers, fauna, sprawling green space, and views of spectacular beach homes, Station 23 is probably the best choice. Less spectacular for the homeowners is the build up of sand over the years, causing the loss of an ocean view, breezes and the introduction of rodents breeding in the trees and brush.  Land use has been the subject of a growing debate. Walking distance: 800 feet.
Station 23 Entrance
Cool grass for hot feet (and paws)
Boardwalk path through the trees
Keep the flip-flops on in the summer. Sand is hot!
Station 24
Example of an easy scenic walk to the beach. Walking distance: 800 feet.
Station 24 Entrance
Raised boardwalk path
Beach
Station 25
Tree canopy entrance followed by some twists and turns. Walking distance: 800 feet.
Tree canopy
Boardwalk path
Beach
Station 26
This station is the only one with a wooden railing and three benches. Pass a small olive orchard. Walking distance: 600 feet.
Station 26 Entrance
Olive garden
Built-in bench
Last bench before the beach
Abundant sand, partly due to southern orientation
Station 26 1/2
Enjoy the shade along this partially tree-canopied path. Walking distance: 700 feet.
Station 26 1/2 Entrance
Straight, hard-packed path
Note lack of snow fences
Beach with sandbars and troughs
Station 27
This path offers a cool walk in the grass until you are surprised by a large pond directly in front of you. Turn left to get around the pond to get to the beach. Walking distance: 1000 feet (due to the pond detour).
Station 27 Entrance
Luxurious walk to the beach
Large pond which is too deep for wading.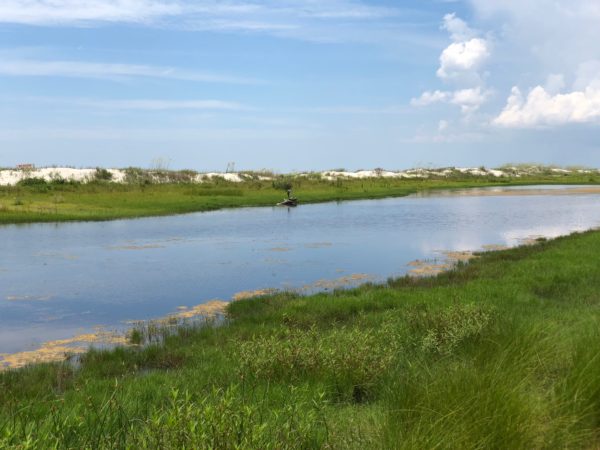 Follow the trail to the left
Negotiate the dunes…
…until you reach your destination
Station 28
The variety of trees, shrubs, and wildflowers make Station 28 a worthwhile choice. You should also notice that the walks get shorter the station number increases. Walking distance: 600 feet.
Station 28 Entrance
Enclosed in nature
Boardwalk begins
Crooked path adds character to the experience
The beach at Station 28.
Station 28 1/2
Station 28 1/2 is most noted for the UFO parked at the entrance. The beach has many sand bar islands and is a mecca for para-sailers in the summer. Some of the sand bars are far enough at sea to be only accessible by boat. Walking distance: 400 feet.
Station 28 1/2 Entrance
Front of UFO
Beach-facing side of UFO
Well-packed sand on the path
Station 28 1/2 beach
Para-sailers
View of beach from a sand bar island
Station 29
As you approach the east end of the island, beach erosion becomes a problem with rock jetties installed to control the flow of sand. This beach offers great views of boats and para-sailers. Walking distance: 100 feet.
Station 29 Entrance
Beach and jetty
View of boats
Station 30
Past Station 27, the higher the station number, the smaller the beach and shorter the walk to the beach. Station 30 is one of the shortest. Walking distance: 80 feet.
Station 30 Entrance
Short walk to the beach
Jetty or "Groin"
Shore artillary gun emplacement
Station 31
Very small beach with lots of hurricane protection. Walking distance: 60 feet.
Station 31 entrance
Rocks for protection from hurricanes
Station 32
This station is closest to the bridge that connects Sullivan's Island with Isle of Palms. Jetties prevent sand from building up in Breach Inlet.


Thomson Park
The sight of a crucial Revolutionary War battle fought to prevent the British from taking Charles Town, the richest city in the South at the time. Colonel William "Danger" Thomson, with cannon fire, grape shot, and expert marksmen among his 780 patriot soldiers, repulsed the attack of 3000 British who attempted to cross what was then a mile wide inlet.
Parking lot and view towards Isle of Palms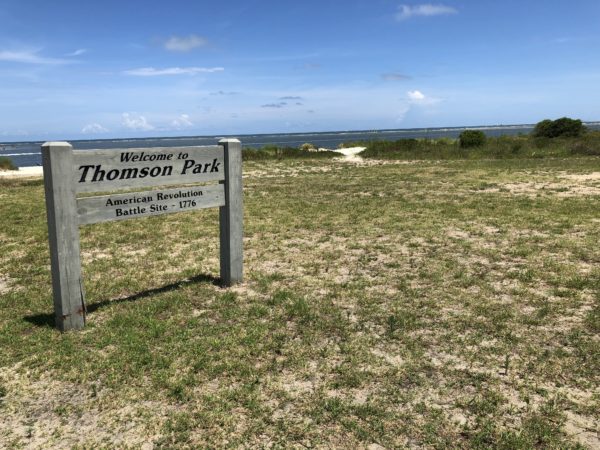 Ocean views
Breach Inlet sign with view to Isle of Palms
Breach Inlet historical marker
Overview of the military history
Explanation of the battle
How victory was achieved
The Catawba tribe fought beside the patriots
Explanatory plaque of  "Charles Town"